June 5th - 7.00pm - 9.00pm
Mount London: Ascents in a Vertical City
Early June sees the publication of Mount London, a very special book indeed.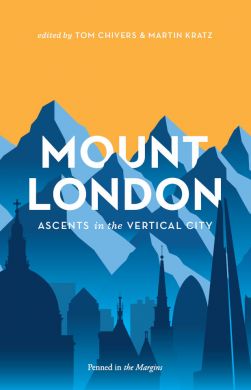 Did you know that an invisible mountain is rising above the streets of the capital - and, at over 1,400 metres, it is Britain's highest peak? This ingenious new book is an account of the ascent of Mount London by a hardened team of writers, poets and urban cartographers, each one scaling a smaller mountain within the city - from Crystal Palace (112m) to Primrose Hill (78m) - until the accumulative climb exceeds the height of Ben Nevis. The essays and stories in Mount London unpeel London's history, geography and psychogeography, reimagining the city as mountainous terrain and exploring what it's like to move through the urban landscape. Ascents of London's natural peaks are offset by expeditions to the artificial mountains of the city - the Shard (306m), the chimneys of Battersea Power Station (103m) - and the search for 'ghost hills' in the back streets of Whitechapel and Finsbury. With contributions by Helen Mort, Joe Dunthorne, Sarah Butler, Inua Ellams, Bradley Garrett and many more, Mount London is a unique and visionary record of the vertical city.
You wil have a chance to meet Katy Evans-Bush, Gareth Rees and Tom Chivers, three of the contributors here on June 5th as they read from and discuss the book.
Published by Penned in the Margins, a very exciting new publisher, and priced at just £10 (£12.99 usually), on the night, this is going to be a brilliant evening.
It's FREE, but please let us know if you plan to come along, so we can make sure everyone gets in