Monday August 31st – from 7.00pm until midnight.
A Very Special Evening celebrating Jonathan Franzen's New Novel, PURITY.
Including a traditional Thanksgiving Meal, a SIGNED first edition of the new book and some very special guests.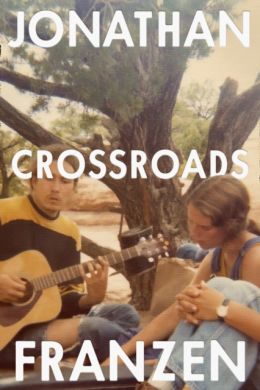 Purity, the new novel by Jonathan Franzen is being published on Tuesday September 1st. That's in less than a month.
Young Pip Tyler doesn't know who she is. She knows that her real name is Purity, that she's saddled with $130,000 in student debt, that she's squatting with anarchists in Oakland, and that her relationship with her mother – her only family – is hazardous. But she doesn't have a clue who her father is, why her mother chose to live as a recluse with an invented name, or how she'll ever have a normal life.
Enter the Germans. A glancing encounter with a German peace activist leads Pip to an internship in South America with the Sunlight Project, an organization that traffics in all the secrets of the world – including, Pip hopes, the secret of her origins. TSP is the brainchild of Andreas Wolf, a charismatic provocateur who rose to fame in the chaos following the fall of the Berlin Wall. Now on the lam in Bolivia, Andreas is drawn to Pip for reasons she doesn't understand, and the intensity of her response to him upends her conventional ideas of right and wrong.
The book is strictly embargoed. It will not be available to buy until midnight on August 31st/September 1st.
A new book by Jonathan Franzen is always huge news. This is his first novel since FREEDOM, five years ago. Here, at the Big Green Bookshop, we want to show our appreciation of this and so we're holding a special night to celebrate.
+++We have secured extremely rare SIGNED first editions of Purity, which ticket holders will be able to take home after the event+++
There will be some very special guests throughout the evening, reading and discussing the enigma that is Jonathan Franzen. And, with a nod to Denise Lambert's culinary efforts in The Corrections, a spectacular traditional Thanksgiving meal prepared by the amazing local caterers Thelma's Trailer (@Thelmas_Trailer). There is a vegetarian option (and a vegan option), but when booking tickets, please let us know.
Homemade cornbread with chipotle ranch dip
Maple glazed pork with crackling & stuffing
Homemade cranberry sauce, gravy and bread sauce
Carrots, green beans, caramelized sweet potatoes and macaroni cheese
Kentucky Bourbon Pecan Brownie & cream
More details of evening's entertainment will be available nearer the time, but we wanted to let you know about this as soon as possible, so you could secure a place at the table.
If you can't make it for the evening, but would like a copy of the SIGNED first edition we have a very limited number available
HERE.