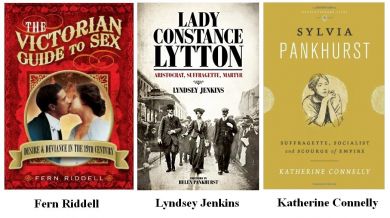 We're delighted to be able to put on a fantastic panel event at the shop to coincide with the release of the new film "SUFFRAGETTE", starring Helena Bonham-Carter, Meryl Streep and Carey Mulligan.
We have three amazing authors here, who will be discussing the suffragette movement and the importance it played.
The authors are;
Lyndsey Jenkins
Lyndsey's book, 'Lady Constance Lytton: Aristocrat, Suffragette, Martyr' is a fascinating look at the life of one the more unlikely suffragettes. Daughter of a Viceroy of India and a lady in waiting to the Queen. She grew up in the family home of Knebworth and in embassies around the world…
Katherine Connelly
Author of 'Sylvia Pankhurst: Suffragette, Socailist and Scourge of the Empire'. In this vivid biography Katherine Connelly examines Pankhurst's role at the forefront of significant developments in the history of radical politics…
Fern Riddell
Fern is the author of 'The Victorian Guide to Sex', An exciting factual romp through sexual desire, practises and deviance in the Victorian era. The Victorian Guide to Sex will reveal advice and ideas on sexuality from the Victorian period. Drawing on both satirical and real life events from the period, it explores every facet of sexuality that the Victorians encountered.
There will be a discussion and also a Q+A, followed by a book signing.
Refreshements will be available.
Tickets for this are just £3, redeemable on any book on the night.