Wednesday April 24th 7.30pm-9.30pm
Big Green Bookswap - Local Author Special
Haringey is blessed with literary talent and so we though that we should celebrate this by holding a special Big Green Bookswap. Hosted by the Great Northern Railway Tavern on Hornsey Road, this is a different kind of book event, so expect the unexpected.
Here are the rules.
1. Bring along with you a book which you're prepared to swap for another.
2. Enjoy a delicious buffet.
3. Prepare to be entertained.
Those are the rules.
Guests so far confirmed are;
Louise Millar
Louise is the author of the haunting
psychological thriller
The Playdate,
published by Pan Macmillan;
"Single mother Callie has come to rely heavily on her best friend Suzy. But Callie suspects Suzy's life isn't as simple as it seems. It's time she pulled away - going back to work is just the first step towards rediscovering her old confidence. So why does she keep putting off telling Suzy about her new job? Suzy and Callie live close to each other on a typical cramped, anonymous London street. Neighbours seem to move in, and move on, before you have even learned their names. Callie's increased sense of alienation leads her to try to befriend a new resident on her street, Debs. But Debs is anxious, odd. You wouldn't trust her with your child - especially not if you knew anything about her past. A brilliant and chilling evocation of modern life, The Playdate is a real talking-point book for mothers everywhere."
Her new book, Accidents Happen, is due out in April.
Kate Parker has had so much bad luck in her life, she's convinced she's cursed. But when she tries to do her best to keep herself and her son safe, people tell her she's being anxious and obsessive. Just when her life starts to spin completely out of control, an Oxford professor she meets offers to help. But his methods are not conventional. If she wants to live her life again, he will expect her to take risks. When a mysterious neighbour starts to take more than a passing interest in her, Kate tries to stay rational and ignore it. Maybe this, however, is the one time Kate should be worried.
Andrew Blackman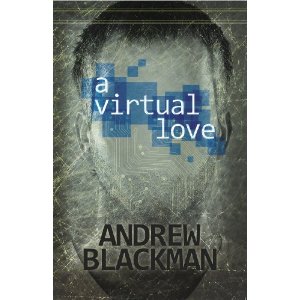 Andrew is the author of the award winning
On The Holloway Road.
Unmotivated and dormant, Jack is drawn into the rampant whirlwind of Neil Blake, who he meets one windy night on the Holloway Road. Inspired by Jack Kerouac's famous road novel, the two young men climb aboard Jack's Figaro and embark on a similar search for freedom and meaning in modern-day Britain. Pulled along in Neil's careering path, taking them from the pubs of London's Holloway Road to the fringes of the Outer Hebrides, Jack begins to ask questions of himself, his friend and what there is in life to grasp. Spiting speed cameras and CCTV, motorway riots and island detours, will their path lead to new meaning or ultimate destruction?
His new book on social networking, A Virtual Love is out in April
For Jeff Brennan, juggling multiple identities is a way of life. Online he has dozens of different personalities and switches easily between them. Offline, he shows different faces to different people: the caring grandson, the angry eco-protester, the bored IT consultant.
So when the beautiful Marie mistakes him for a famous blogger, he thinks nothing of adding this new identity to his repertoire. But as they fall in love and start building a life together, Jeff is gradually forced into more and more desperate measures to maintain his new identity, and the boundaries between his carefully segregated personas begin to fray.

In a world where truth is a matter of perspective and identities are interchangeable, Jeff finds himself trapped in his own web of lies. How far will he go to maintain his secrets? And even if he wanted to turn back, would he be able to?
Callum Jacobs
Callum is the author of
House of Dreams,
a novel about the horrific possibilities of reality TV.
Tyler Thoreau's lifestyle has been spiraling out of control and when he pushes a make-up girl off the balcony during a recording of his breakfast show Live and Direct, he needs to make a speedy exit. Serena, his producer, packs him off to her family's cottage in a sleepy Sussex village for some chill out time under the watchful eye of her strange but wise younger brother, Yves. Tyler settles into the slow rhythms of country life and even learns how to turn off his phone.
In spite of the rampant industry gossip about his increasingly psychotic behaviour, an extraordinary offer to host a new reality show, House of Dreams comes out of the blue and it is an offer that Tyler finds irresistible, despite the advice of his friends and Panopticon Productions' veil of secrecy about the exact format of the show.
With the backing of a covert, new government department, 'houses' set up all over the country and contestants far more numerous than other rival shows, House of Dreams promises to take the Big Brother mould to its ultimate conclusion.
Tickets are just £5
available here
which includes the buffet. These bookswaps are a lot of fun and this is a fantastic opportunity to meet some of our best local authors. Hope to see you there.