Thursday July 23rd at 7.00pm-9.00pm
An Evening with Scarlett Thomas.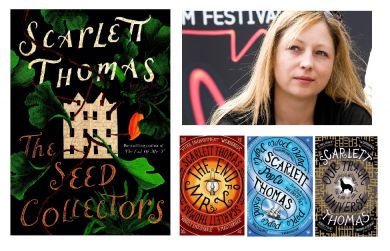 Bestselling author Scarlett Thomas returns to the bookshop for a very special evening, to celebrate the publication of The Seed Collectors, her first novel for five years.
"I have no idea why everyone thinks nature is so benign and glorious and wonderful. All nature is trying to do is kill us as efficiently as possible."
Great Aunt Oleander is dead. To each of her nearest and dearest she has left a seed pod. The seed pods might be deadly, but then again they might also contain the secret of enlightenment. Not that anyone has much time for enlightenment. Fleur, left behind at the crumbling Namaste House, must step into Oleander's role as guru to lost and lonely celebrities. Bryony wants to lose the weight she put on after her botanist parents disappeared, but can't stop drinking. And Charlie struggles to make sense of his life after losing the one woman he could truly love.
A complex and fiercely contemporary tale of inheritance, enlightenment, life, death, desire and family trees, The Seed Collectors is the most important novel yet from one of the world's most daring and brilliant writers. As Henry James said of George Elliot's Middlemarch, The Seed Collectors is a 'treasurehouse of detail' revealing all that it means to be connected, to be part of a society, to be part of the universe and to be human.
Scarlett's previous novels include Our Tragic Universe, Bright Young Things and The End of Mr Y, which was longlisted for the Orange Prize. Scarlett's books are quite rightly, very very popular at the Big Green Bookshop and anyone who was at the shop last time Scarlett was here will know what an incredibly exciting night we have in store.
Tickets for the evening are just £5, redeemable on the night on Scarlett's books. BUY TICKETS HERE.
If you can't make the night, but would like a signed copy of
The Seed Collectors
posted to you, copies are available to pre-order HERE.