Saturday October 15th - 6.00pm - 8.00pm
Not The Booker Night
In 2009, the first

Not the Booker Prize

was launched by Sam Jordison in the Guardian. After a number of "controversial" decisions at the Man Booker Prize (and other literary prizes) this was a somewhat tongue-in-cheek attempt to introduce a slightly more democratic way of choosing a prize winning book.
The entry criteria are very similar to the Booker Prize.
Readers are asked to nominate a book fitting these criteria and a very long longlist is then announced. This longlist is then whittled down to six books, by people writing reviews for the books they want to win...the full rules can be found here , but we now have the Not the Booker Shortlist. Here it is.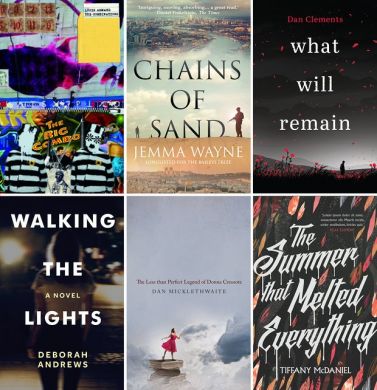 The Combinations by Louis Armand
The Less Than Perfect Legend of Donna Creosote by Dan Micklethwaite
Walking the Lights by Deborah Andrews
The Summer That Melted Everything by Tiffany McDaniel
Chains of Sand by Jemma Wayne
What Will Remain by Dan Clements
And we are delighted that once again, the Not the Booker Prize is going live! Wembley Arena? Nah. The South Bank? pfft. Only the Big Green Bookshop could host such an event.
Each year, the award gets bigger and bigger, with over 1500 votes for the shortlist this year.
All six authors have been invited by to attend a panel reading and discussion and Sam Jordison will be here to chair the discussion. We can't guarantee all the authors will be able to make it (two are based in the states, so we're working on hooking up Skype, so they can be involved too), but we're pretty sure four will be in attendance at the shop on the night.
Not only will you get the chance to meet the authors, there will also be a Q and A and a signing.
These Not the Booker Events are really brillaint fun and this year's shortlist looks fantastic. I cannot wait to read each of them myself.
Tickets for this event are just £3 (HERE),

redeemable on any of the shortlisted books on the night

. Spaces are very limited and this event will sell out very quickly.
Really hope you can make it.